Geilenkirchen today
At the southern edge of the Heinsberg district, where the B 221 (Aachen-Kleve) and B 56 (Bonn-Sittard/NL) trunk roads cross, lies the modestly sized town of Geilenkirchen. Surrounded mainly by rural countryside, the town has a population of over 28,000. Geilenkirchen owes its traditional key position in the daily life of the surrounding region to its convenient location and easy access.
The face of the town centre has dramatically changed in the course of extensive renovation work. The extension to the Town Hall and the redesign of the Market Place put the final touches to this phase. Without a doubt, the town has benefited tremendously from this facelift.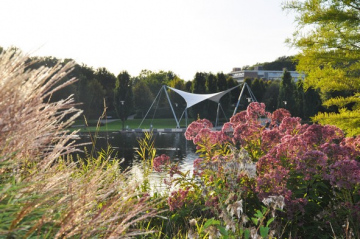 Wurmauenpark today
The town centre is surrounded by dozens of well-maintained villages that pride themselves on their cleanliness and are home to a particularly easy-going lifestyle. Geilenkirchen offers its inhabitants a high standard of living and above average leisure time activities. Apart from its excellent shopping facilities, Geilenkirchen has the full range of educational institutions and a whole range of social and care institutions - a modern hospital, old people's homes and nursery schools. Making good use of one's leisure time is hardly a problem here, with sport centres and gymnasiums, swimming baths, both indoor and outdoor tennis facilities, indoor riding, gliding and model aeroplane aerodromes and numerous recreational and sports grounds round off the options.
Those in search of peace and quiet will find the town in the valley of the River Wurm - nestled between hidden castles and stately homes, old water-powered mills and impressive farm houses - the ideal choice. A particular attraction is the nearby Teverener Heath.
The pleasures associated with this town are appreciated by, among others, the German Army and NATO, whose soldiers are stationed close to Geilenkirchen. Relations between the local population and these "visitors" are extremely convivial.