The Geilenkirchen Public Library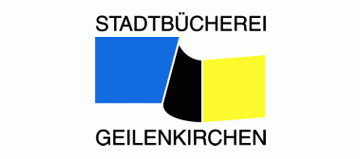 Welcome to your library service!
Thank you for visiting our website! We hope you will find it useful and informative. Enjoy browsing!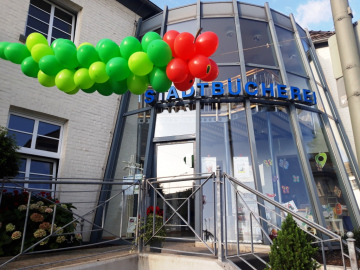 Contact us:
Martin-Heyden-Str. 24-26
52511 Geilenkirchen
Phone: 02451 98280
Fax: 02451 982828
Opening times
| | |
| --- | --- |
| Di | 10:00 - 18:00 Uhr |
| Mi | 14:00 - 18:00 Uhr |
| Do | 10:00 - 18:00 Uhr |
| Fr | 10:00 - 14:00 Uhr |
| Sa | 10:00 - 13:00 Uhr |
Items on offer
We offer the whole world of multimedia
On 450 m² you will find 31.500 different items
Printed
Bestsellers, brand new and up to date 

Non-fiction books of all fields of knowledge

Revision aids for any subject

Novels and tales from Crime to Classical fiction

Children's and young reader's books for every age

Magazines and newspapers with current information
Sound and vision
Music CDs including Rock, Pop, Electronic, Dance, Jazz and Classical Music

Audio books for children and adults (some available in English)

DVDs containing feature films, documentaries and films for children

Slides of popular picture books
Digital
DVD-ROMS and CD-ROMS containing learning software and games
Surely you will find something interesting, too. Just come in and have a look!
Service
We offer extensive and qualified services to all our customers.
The warm and friendly atmosphere inside the library will make you feel welcome. Small reading areas are available. In the summer you can even sit outside on our patio.
Apart from three public computers and a costumer orientated media presentation we also offer professional and friendly advice. In our online-catalogue you can check and research our stock from the comfort of your own home.
We are looking forward to seeing you!
Joining

You can join the library by bringing a valid passport or Id-Card and a "Meldebescheinigung" (a confirmation of registration from the Town Council).
If you are under 18 you need the written consent of a parent or guardian. You can obtain the necessary form in the library or download it from this website.
After registration and paying the annual fee or a fee per borrowed item you receive your library card. With your signature on the card you recognize the library's rules and regulations.
Borrowing
With your annual library card you can borrow books and magazines free of charge. Additional charges are to be paid for all audio-visual items.
Borrowing periods:
| | | | |
| --- | --- | --- | --- |
| Books: |   |   | 4 weeks |
| Magazines, audio books, software and cds for children: |   |   | 2 weeks |
| Dvds and games (Nintendo Switch and Nintendo Wii): |   |   | 2 week |
All items can be renewed twice, unless they are reserved by someone else. A charge is payable if items are not returned or renewed on time.
Certain items, such as some reference books, newspapers and the newest edition of all magazines cannot be borrowed. These items can be viewed in the library. Photocopying facilities are available.
It is not possible to borrow items without your library card.
We apologize for any inconvenience.
Renewals
It is possible to renew every item twice, unless reserved by somebody else.  Renewals can be made
in person in the library
by telephone, ring 02451 9828-0
by fax, ring 02451 982828
by e-mail to stadtbuecherei@geilenkirchen.de
or in the internet in our online catalogue (WebOPAC)
Please have your library card ready, you will need the reader's identification number on the back.
Online Catalogue (Web-OPAC)
You can find a link to the online catalogue on our homepage (www.stadtbuecherei-geilenkirchen.de ).
Here you can explore the library's stock, search for and reserve items. You can also log into you ouwn account to renew items and check return dates. The library staff will happily give you a brief introduction into using the Web-OPAC. Please do not hesitate to ask us.
Fees and charges
The annual subscription fees are:
for adults                                          15.00 €
for children aged 11 years and over      5.00 €
children under 11                                  free
Please note that the annual fees only cover books and magazines. Additional charges are to be paid for all audio-visual items.
Alternatively you may pay 0.50 € per magazine or book and 1.00 € for each audio-visual item.
There are extra charges for certain special services (i. e. reservations, Internet, Inter-library loan).
Our rules and regulations and all fees and charges can be found below.
Inter-library loan
If you require non-fiction books or articles from journals that are not held in our library, it may be possible to obtain them from elsewhere through the Interlibrary loan service. A small fee (2.50 Euro) is charged for each request.
To process your order we need full details of your request, such as author, title and year of publication. For articles additionally state the volume, issue and page numbers.
You can make your request personally during our opening times, alternatively you can send an e-mail with all the necessary information. Do not forget to include your name and library card number. We will contact you as soon as your order has arrived.
Excluded from the Interlibrary loan are:
books below the price of 15 Euro, that are still available in bookshops
fiction books and literature for children and young adults
audio-visual material (CDs, CD-ROMs, DVDs etc.)